Cheaha Resort State Park
At 2,407 feet above sea level, Cheaha Mountain is the highest point in the entire state. The park provides grand views of the Talladega National Forest, which surrounds the 2,799-acres of the park itself. In addition, over 80 campsites, 10 cabins, and a number of trails are available for outdoor enthusiasts. The Bald Rock Group/Conference Lodge was originally built by the Civilian Conservation Corps in 1939, and it is a popular site for weddings, business meetings, and family gatherings. A full-service restaurant on the side of Cheaha Mountain serves regional cuisine to compliment the stunning view.
Cooper Creek Park provides guests with access to a walking and fitness trail, playgrounds, picnic areas, grills, and covered eating areas. You can also find horseshoe courts and one of the top clay court tennis facilities in the country: Cooper Creek Tennis Center. Also, covered areas can be reserved for daily use.
Great Wolf Lodge
Found in Lagrange, Georgia, Great Wolf Lodge is not your typical hotel experience. Great Wolf not only offers themed hotel rooms, but provides access to many great activities such as: an indoor water park, restaurants and shopping, mini golf, ropes courses, an arcade room, and more. With activities for all ages and interests, Great Wolf Lodge is the perfect vacation spot for fun for the entire family!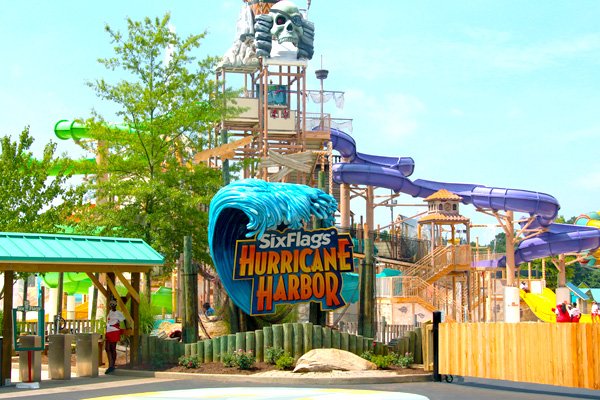 Six Flags Over Georgia
Located just a short drive up the road to Atlanta, Georgia, Hurricane Harbor is the perfect Summer trip for your family. This water park contains attractions including: restaurants and shopping, wave pools, many different slides, cabanas, and a large kids play area. Also, if you are a fan of roller coasters, each ticket to Hurricane Harbor is included free with your Six Flags Over Georgia admission, making this the perfect spot for your next trip!

---
Eddie Aldridge first fell in love with the natural beauty of the Coxe Family Estate in 1966, when he was hired to plant three magnolias on the grounds. Eddie and his father, who are respected horticulturalists, recognized the grandeur of the land; and in 1977, Eddie purchased the property with the intention of developing it as a public garden. Twenty years later the gardens opened to the public, and today they are the site of many weddings, public celebrations, and private events.
Less than an hour from Columbus and Phenix City, Callaway Gardens is a vacation resort with luxury accommodations, water activities, world-class golf courses, and spa packages. This location is the perfect spot for family vacations and weekend getaways. Click on the website to learn more!
Huntsville has been nicknamed "Rocket City" for its long history with NASA and the U.S. Space program. In 1950, the U.S. military brought German rocket scientists to Huntsville to work on the beginnings of the space program; and in 1960 President Eisenhower formally dedicated the Marshall Space Flight Center. Then, in 1970 the U.S. Space and Rocket center was opened as a museum of the program's impressive hardware. The U.S. Space & Rocket Center allows visitors to explore the past, present, and future of space. The center is filled with many hands on activities, like a Mars climbing wall and a G force simulator to compliment an impressive array of rockets, shuttles, and space capsules.
Coca Cola Space Science Center
Columbus State University's Coca-Cola Space Science Center is located in the heart of Uptown Columbus, along the beautiful Chattahoochee Riverwalk, and adjacent to the Columbus Historic District and the Iron Works Convention and Trade Center. This state of the art facility houses a Challenger Learning Center, The Omnisphere Theater, and The Mead Observatory. There is something for everyone, so keep an eye on what's happening at the Space Center.
Whether you want to take a ride on the whitewater rapids of the Chattahoochee River, or a quiet pool to practice paddleborad yoga, Whitewater Express is your starting point. Whitewater Express is not only rafting, but also operates the Blue Heron Adventure. This is a dual zip-line that starts in Columbus and zips across the river into Phenix City, AL. Learn more information on Whitewater Express by clicking on the link above!

Lake Martin is located in Alabama, not far at all from Columbus or Phenix City. There are endless possibilities including: jet skiing, boat rides, great restaurants, along with many hotels or lake houses to stay in. Always a great time on Lake Martin!
Both Columbus and Phenix City are around a 4 to 5 hour drive to the beautiful coast. From spending a day at the pool, to the many great restaurants and shopping, there are endless activities to enjoy at the beach!

---
National Civil War Naval Museum
Located in Columbus, the National Civil War Naval Museum overlooks the Chattahoochee River. This museum houses the largest surviving Confederate warship, the CSS Jackson, as well as the wreckage of the CSS Chattahoochee. They host a range of events throughout the year with an emphasis on museum theater and historic character interpretation. In addition, there are living history events, tours, cannon firings, weapons demonstrations, local history projects and more.
Westville is a living historic village near Lumpkin, Georgia. Actual historic buildings from the area have been moved to this site to save them from destruction. Westville replicates a working village around the 1850's, complete with appropriate gardens, furnishings, and dirt streets. Through exhibits, demonstrations, and many other activities you are able to experience the time period first hand.

Tuskegee Institute National Historic Site
The Tuskegee Institute served not only as a center for educating freed slaves and their children, but also became a beacon of hope for all African Americans in the decades after emancipation. Officially opened on July 4, 1881 as the Tuskegee Normal School with Booker T. Washington as its first principal, the original buildings were built by the students themselves with bricks made in the institute's brickyard. Today, the original institute is a national historic site located on the campus of modern-day Tuskegee University, and includes the George Washington Carver Museum.
To be one of the oldest surviving ballparks, Rickwood Field is in strikingly good condition. Opened in 1910 to a delighted crowd of 10,000 people, many of the park's original features still remain today, such as: the manual scoreboard, press box, and vintage outfield advertising signs. In its heyday, the field was graced by legendary players known as Stan Musial, "Satchell" Page, and the most famous of all Alabama Sluggers, Willie Mays. The field now hosts an annual Rickwood Classic and remains a tribute to America's favorite pastime.